Always verify the Token ID for SOUR tokens. Even if it's just the first few numbers –
6448381f9649ecacd8c30189cfbfee71a91b6b9738ea494fe33f8b8b51cbfca0

SOUR Token Genesis Transaction on BCH Block 603,164
SLP � GENESIS SOURSOUR https://keepbitcoinfree.org/SOUR L�L������
Trade SOUR/BCH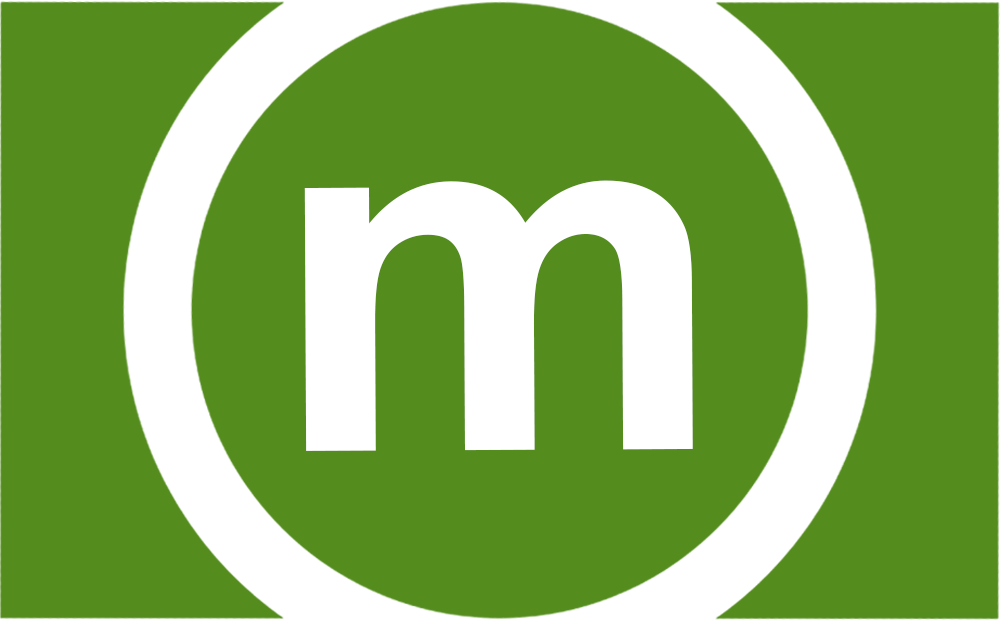 SOUR is a Simple Ledger Protocol (SLP) token that is built on the Bitcoin Cash (BCH) blockchain. SOUR is used by the community to show appreciation & reward those promoting Bitcoin Cash and adoption. The SOUR token is among the first to implement a system similiar to Proof of Stake, called Proof of SOUR. Holding SOUR above the minimum, for longer periods of time, will now allow you to earn more SOUR. There are planned BCH & SLP airdrops to SOUR holders, a merch shop you can spend or earn SOUR, weekly poker tournaments where you can win BCH & SOUR, the #Donate4SOUR initiative which allows you to earn SOUR by donating BCH to select orgs, and more development always in the works. SOUR will continue to grow in the future along with the possibilities for Simple Ledger Protocol & Bitcoin Cash.
// Frequenty Asked Questions
// Learn how to earn SOUR Rewards & stack SOURtoshis!
There are only 42,000,000 SOUR tokens ever created in total and each one is divisible by 8 decimals, or 100,000,000 SOURtoshis. That is double the amount of Bitcoin, divisible by the same amount. Enough to be popular, but still exclusive enough among SLP tokens to be one to add to the bag.
Spend your SOUR tokens or earn SOUR Rewards with every $10 in BCH or USDH spent at our shop!


Visit the SOUR Faucet to try SOUR SLP tokens.
*Reddit account with 25+ karma is required.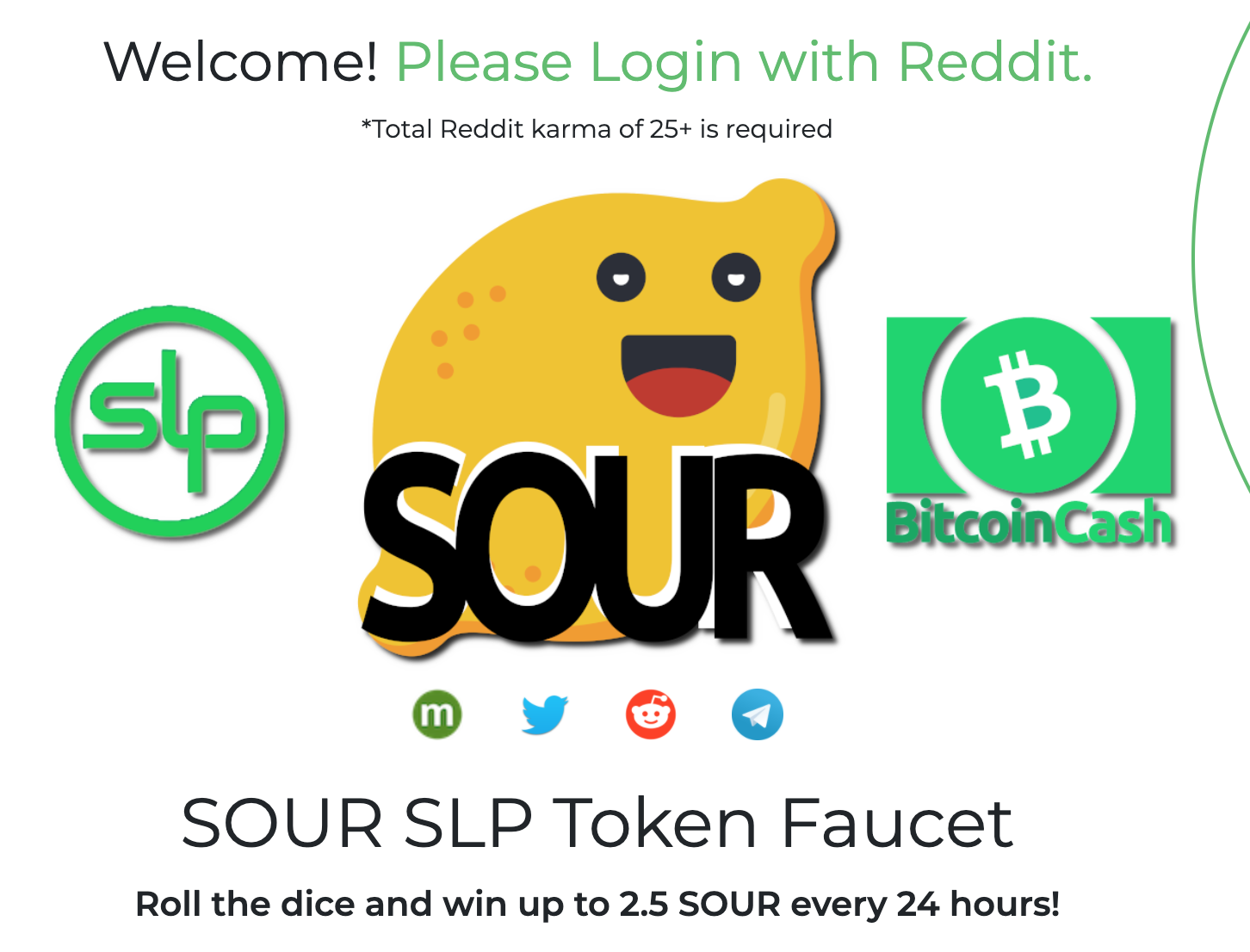 We also have a Telegram Faucet. To gain access you must follow us and retweet or post and tag SOURtoken on Twitter or Memo with an account that has some activity (not a brand new or unused account). Send a DM with proof to @KeepBitcoinFree.
Follow us on Twitter
Follow us on Memo.cash

View the latest stats & TX at the SOUR explorer.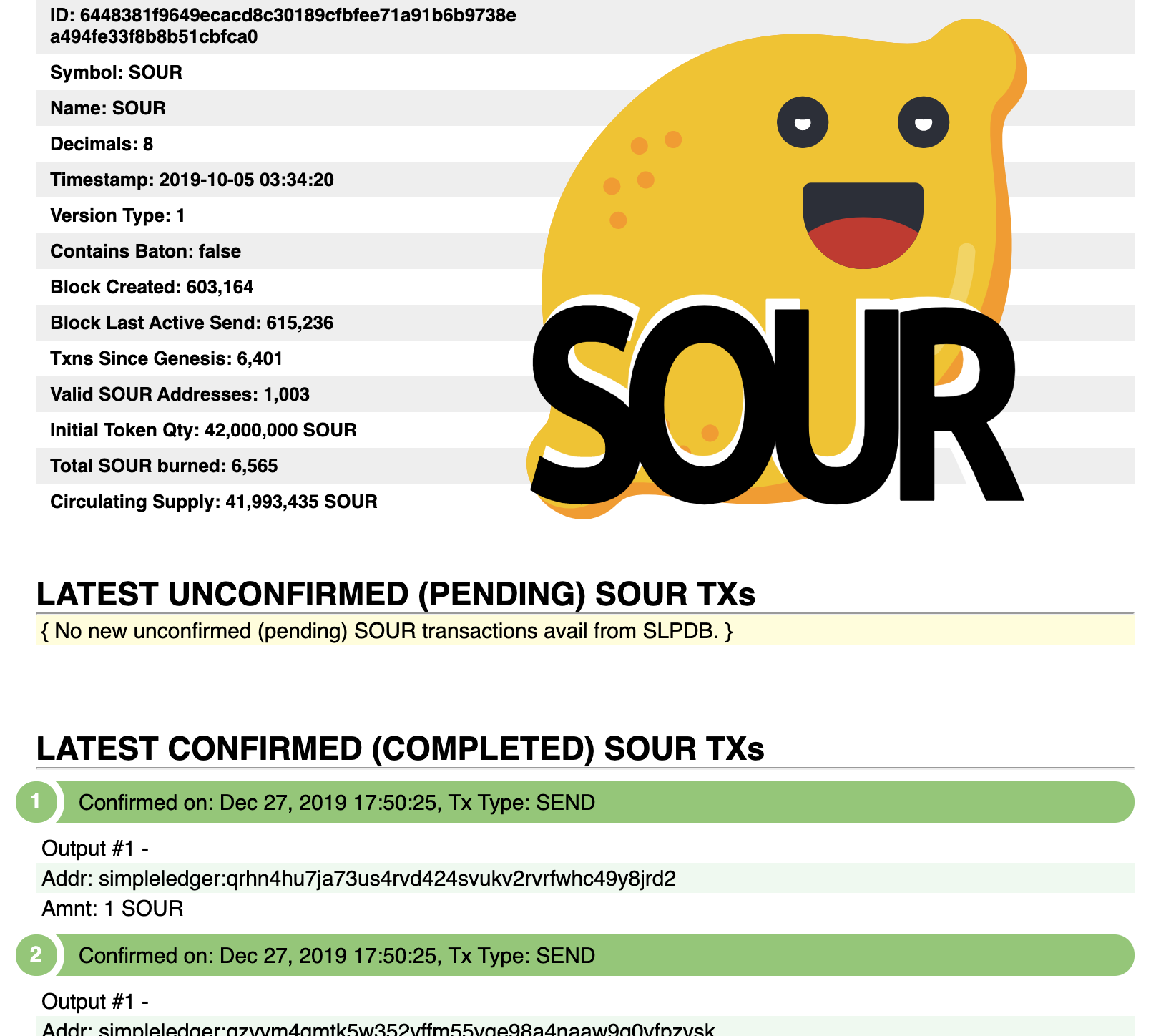 🍋 SOUR SLP Saturdays are Weekly Blockchain.poker Tournaments. Every Saturday at 8:30PM EDT, we will be hosting weekly exhibition, free-roll BCH tournaments. After 25 weeks, this leads up to a World Series of SOUR finals tournament. By placing in our exhibition tourneys, you will earn points towards a free entry to the WSOS. If you place in the top 5 in any of our tournaments, you will be eligible to win SOUR Rewards. The total SOUR prizes are worth up to 8 million Satoshis of BCH on Memo.cash!
Practice playing poker for free on Blockchain.poker today.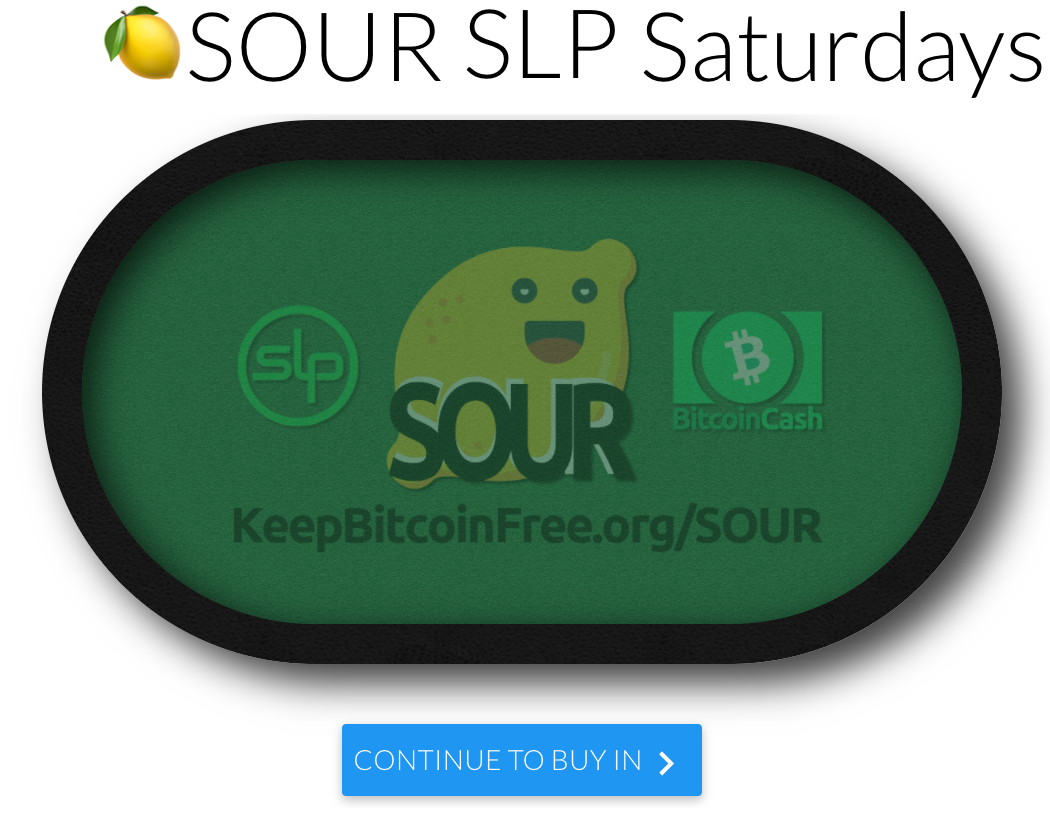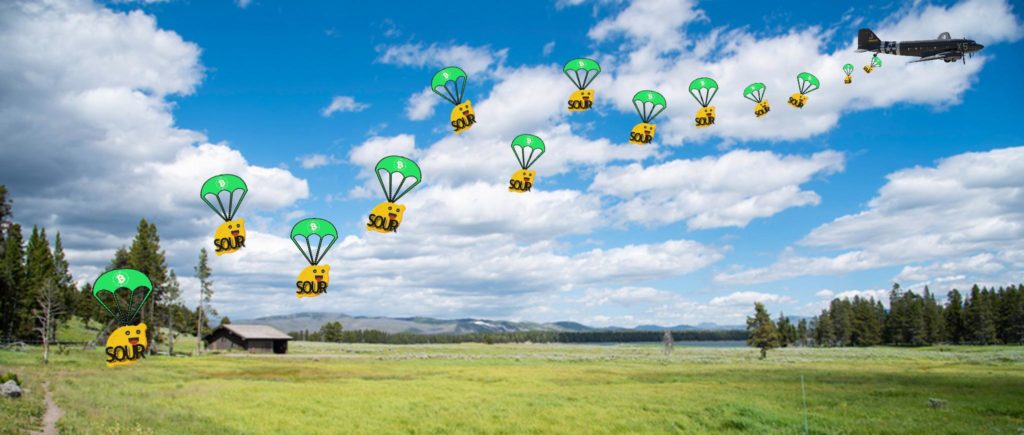 Airdrop Schedule
| Amount | Date |
| --- | --- |
| 20,000 Spice 🌶️ | October 31st, 2019 |
| 0.15 BCH | November 8th, 2019 |
| 20,000 Spice 🌶️ & 5 Beer (🍺) | December 20th, 2019 |
| 0.20 BCH | January 25th, 2020 |
| 30,000 Spice 🌶️ | February 22nd, 2020 |
| 0.30 BCH | March 21st, 2020 |
| 10,000 SOUR 🍋 (PoS Airdrop) worth ~0.36 BCH | May 23rd, 2020 |
| 20,000 Spice 🌶️ | July 25th, 2020 |
| 0.40 BCH | August 22nd, 2020 |
| 10,000 SOUR 🍋 (PoS Airdrop) | September 19th, 2020 |
| 0.47 BCH | October 31st, 2020 |
| 10,000 SOUR 🍋 (PoS Airdrop – Randomized ) | December 26th, 2020 |
*Airdrops to SOUR holders are distributed based on amount of SOUR held / amount of SOUR in circulation (not held by SOURtoshi) multiplied by the airdrop amount. Proof of SOUR airdrops are typically based on amount held but will also be randomized and will be noted as such.
**Airdrops to SOUR holders are not recieved through any tipbots. You must own the PRIVATE KEYS to the wallet storing your SOUR in order to recieve airdrops. Use Badger Wallet, Memo.Cash or Electron Cash SLP, or Mint.Bitcoin.com, etc.
How can I get some Airdrops & Staking Rewards?
To be eligible for an airdrop, you must:
1. Hold SOUR in a wallet that YOU hold the private keys to (not in tipbots or exchanges), and
2. Hold a balance in one address above the minimum for that airdrop. Typically the more SOUR held, the more of the airdrop you'll recieve but some will be more randomized.

** To be eligible for airdrops or staking rewards, your SOUR balance must be combined into one address. Some wallets will use different addresses for each deposit or change from sending tokens. We recommend using a separate wallet for airdrops or staking that only uses one address to make it easier – SOUR paper wallet, Memo.cash, Badger wallet, & Zapit wallet.

Next BCH Airdrop on 10/31/2020: 0.47 BCH
Min for BCH Airdrop: ~200 SOUR

*Addresses that would recieve less than 0.00005 BCH are not eligible
*Minimums & payouts may vary from what is displayed.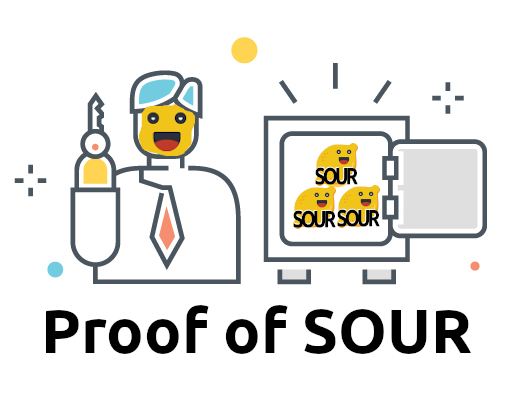 The Proof of SOUR (staking) system is still currently in development. Every 3 months, 10K SOUR is airdropped, split among all holders with 400+ SOUR balances. This will soon be supplemented with a more proper Proof of Stake system with higher tiered minimums and rewards for holders, who's coins have not moved for at least 2 weeks. This will enable those higher tiered holders to earn daily, weekly or monthly staking rewards.
Frequently Asked Questions
What is SOUR?
SOUR is a token built on Bitcoin Cash, utilizing PoS (Proof of Stake) for distribution rewards and future community applications. SOUR is used for showing appreciation and rewarding those furthering the adoption of Bitcoin Cash & SLP tokens. SOUR offers airdrops to holders, a merch shop, weekly poker tournamennts, staking rewards, a paper wallet generator, a bot to reward and encourage BCH donations to specific orgs, and more.
How can I get some SOUR?
Download a recommended SLP/BCH wallet, listed at sourtoken.cash/#wallet
Create a new SLP wallet, write down your seed phrase to safely store offline, and then copy your SLP receive address to receive your SOUR tokens.
SOUR/BCH is currently listed at two exchanges:
Memo.cash -> https://BCH.gg/buysour
* Memo is non-custodial DEX and social media site where you hold your own keys.
AnyCoin.cash -> https://anycoin.cash/#/pages/exchange/dashboard/sourbch
* AnyCoin is a new, custodial exchange. Don't store your coins/tokens on any exchanges; always withdraw to your own wallet.
Visit the SOUR Faucet to try a small amount, located at http://sour-faucet.ddns.net. The faucet requires a Reddit.com account with at least 25 karma to claim. If you don't understand how to use Reddit or earn karma, please visit https://www.wikihow.com/Use-Reddit . Anyone using duplicate accounts, begging for karma, or posting spam links on Reddit, Telegram or Memo will be banned from the faucet.
A secondary faucet is available on a private Telegram group . To gain access, you'll need an established social media account with some activity, (a few follows and some genuine tweets will work), follow us and retweet or post about SOUR on either twitter.com/sourtoken or memo.cash/topic/SOUR (Memo requires small amounts of BCH to post).
You can earn SOUR by:
Contributing to the discussion and project on our Telegram channel and the Memo topic.
Staking your existing SOUR by holding over the minimums to recieve SOUR airdrops and staking rewards.
Donating 100k+ satoshis BCH to specific organizations and tagging your post with #donate4SOUR on Memo.
More ways to earn SOUR are being developed!
Warning: The SOUR token should not be considered an investment. It's an experimental and dynamic project used for rewarding contribution in furthering Bitcoin Cash & SLP adoption, as well as exploring development of the Simple Ledger Protocol. It's value is intended to be transactional in nature, and any long-term value is highly speculative.